For immediate release…
Berwick Teen Wraps up 4th Annual Charity Tour
Nearly $1,000 Raised for cystic fibrosis
(2/16/19)- Berwick, PA- For the last four years, 14 year old Rose Ostrowski has been doing something that she loves, and for a good cause. The teen hosts her annual 'Adding Tomorrow's' tour, which benefits the Cystic Fibrosis Foundation. The singer-musician's goal has always been simple- to sing and perform at various venues and help raise donations and awareness for the cyst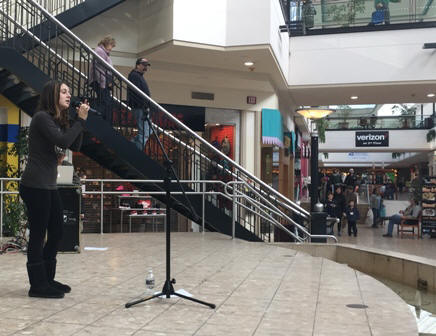 ic fibrosis community in the process. This year's tour was one of the most successful, raising $975 towards helping to find a cure for the disease that took Rose's cousin Camillia back in 2012.
Her tour kicked off at the Hard Rock Café in Nashville, TN in late September and it wrapped up on Saturday at the Marketplace at Steamtown in Scranton, PA. Consisting of twelve shows in total, the tour has taken her from Music City to the largest shopping mall in the county for performances.
Ostrowski received a few surprises along the way during her annual event, including an invite from Jeff Keith, lead singer of the band Tesla, to be a guest at their recent show at Penn's Peak in Jim Thorpe, PA. She also received an invite to perform on the set of 'Poley's Pool House' with Ted Poley, who is the frontman for Danger Danger,

Tokyo Motor Fist

and the Ted Poley Band

.
With some time off before her upcoming shows in late spring and the summer, Ostrowski is determined to focus on her writing and music. Although she has several cover song recordings on iTunes, Amazon, Spotify, etc. for sale to benefit the foundation, she's gearing up to record her own original music in the near future.
"I just wanted to thank everyone from Nashville to all of the shopping malls that allowed me to perform as part of my charity tour this year", noted Ostrowski.
"To all of the people that made donations, either at shows or on line, you rock!,
"Thanks for all of the support."
For more information on Rose Ostrowski and her cause, visit RoseOstrowski.com. Happenings are also posted on her official instagram and Facebook social media platforms.
Ostrowski is also excited to continue to endorse many great products, such as Sennheiser Electronics, Hercules Stands and Bose.
###